Biography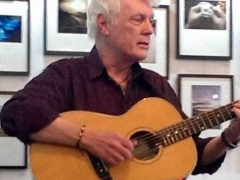 As well as being a fine guitar player and singer Bill Adair is a prize winning poet and songwriter whose award winning songs have won plaudits from all round the world. Equally at home singing a traditional Scottish ballad, playing blues from the Mississippi Delta or performing one of his own songs his performances are complemented by a natural story-telling style that is both thought-provoking and entertaining. From his home in Stirling, Bill is much in demand at festivals and folk clubs all over the UK and throughout Europe and New Zealand. He is widely recognised as a renowned interpreter of the poems and songs of Robert Burns.
Born on the outskirts of Glasgow, Bill grew up in Lanarkshire in a family with strong musical leanings. His father played violin for the Scottish Concert Orchestra and his mother, although born in Patagonia, had a blood line that was 100% Welsh, so he grew up listening to the music of Mozart, Handel and Neil Gow and hearing traditional Welsh songs like Calon Lan and Ar Lan Y Mor. This diversity of music was such an influence on him that soon he was singing and playing guitar at various church socials in the Glasgow area.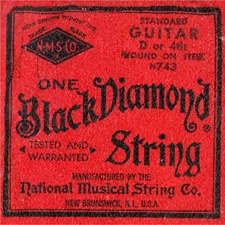 "My first guitar was a Christmas present from my mother," recalls Bill. "It was a second hand Harmony with an action so high you could almost slide your hand between the strings and the fret board, but I loved it. Back then there were only two brands of guitar strings readily available in Glasgow: Cathedral or, if you had a bit more money, Black Diamond. And there was no choice regarding gauge; there was only one, heavy! If you could bar a chord with those, you could bar a chord with anything. Now when I go into a music store I am amazed at the huge selection of strings that are available, brands and gauges to suit all kinds of playing."
During those years Bill's musical tastes changed, and when he was about 15 he started to really listen to music, and especially to acoustic music. "The Beatles had always been, and still are, my all time favourite band but I never wanted to play electric guitar. But anyone that played an acoustic guitar immediately grabbed my attention. I started to listen to people like The Clancy Brothers and Tommy Makem, Hamish Imlach, Donovan, Joan Baez and of course Bob Dylan and played and played their records until the grooves were almost worn away, just trying to learn a new song or guitar lick."
"That period of my life seemed to last forever. When I think back to the music I was hearing and trying to play, and to the friends I made, and shared the music with, I realise just how lucky I was. It's only later on that you understand how fleeting those special times are."
When he was about 18 Bill heard a record that would have a profound and lasting effect on the direction his music would take. How To Play Blues Guitar, an instructional album by Stefan Grossman and Rory Block, introduced Bill to some of the earliest and most influential Delta blues masters. Through this record, and the accompanying tablature booklet, Bill learned his first lessons in blues from the tunes of people like Mississippi John Hurt, Willie Brown, and Reverend Gary Davis.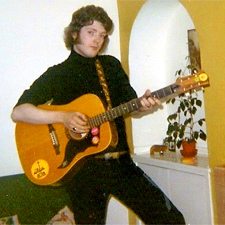 By this time Bill had moved on from his high action second-hand Harmony to a nylon strung Yamaha, but as soon as he heard the blues he just had to have a jumbo acoustic. "You have to understand," said Bill, "that my mother and I were on our own as my father died when I was 11. There wasn't that much money around so there was no chance of me owning a Martin, which even then I regarded as the Holy Grail of guitars, but, with some help from my grandmother, I took possession of an Eko Ranger 6."
With a new guitar and discovering the joy of lighter gauge strings ("even though I couldn't afford a Martin, I could at least use Martin strings"), Bill began to pick and sing his way through a vast catalogue of country blues, protest songs and some traditional Celtic material and along the way he took his first steps in developing a style of fingerpicking and a love for alternate tunings that would eventually become his trademark.
Following a long and successful career with Strathclyde Police, Bill worked first as a security consultant and then as bookshop owner until, frustrated with trying to fit into a corporate world in which he never felt comfortable, he eventually gave up business totally and turned to music. "What I was doing, and what I saw in the world of commerce, really disheartened me. I decided in 2007 it was time to fulfil my dream and become a full-time musician."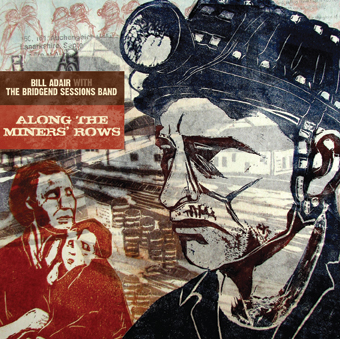 Bill threw himself almost immediately into an ambitious project that helped to hone his playing and singing and, at the same time, to nurture his distinctive voice as a songwriter. With the approach in 2009 of the 50th anniversary of the Auchengeich Mining Disaster, which occurred in the North Lanarkshire mining village of Bridgend where he grew up, Bill decided to help commemorate this important local event with the release of an album of original songs about mining, and especially about the mining community where he grew up, and in September 2008 he released Along The Miners' Rows. "I had written a song called Along The Miners' Rows about 20 years previously. With the approach of the 50th anniversary I thought about expanding that idea into a full album to try and tell the story of not only Auchengeich but about how such disasters can affect communities everywhere."
"As I wrote the songs and music I began to think about how it would be performed and introduced. It soon became clear that what would work best would be to link the songs with a piece of dialogue spoken by specific characters. And so, Along The Miners' Rows was born, which I performed with The Bridgend Sessions Band throughout central Scotland. One of the highlights of that tour was to be able to perform the work at the National Mining Museum in Newtongrange on the 50th anniversary of the disaster. It was very moving for the entire band." A trust fund that was set up by Bill or the two local primary schools benefited from the proceeds from the sale of the CD. "I felt this was my chance to give something back to my community."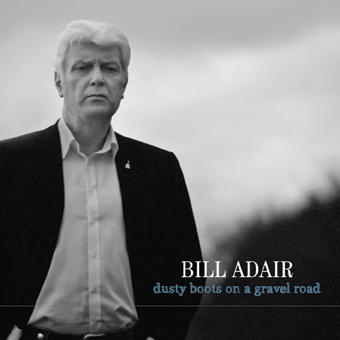 Bill's second release for Sad Jeb Music, Dusty Boots on a Gravel Road, is a mix of six original tunes and six new covers of traditional and contemporary songs from writers including Robert Burns, Ewan MacColl, Billy Edd Wheeler and Robin Laing. Dusty Boots finds Bill extending his recording repertoire in what he describes as "a very personal album full of reflection. It is, I suppose, my own hunger for a time long past in my life when things were simpler, people were kinder and the world moved much more slowly."

And what about another album? "I have already started work on some songs which may find their way onto a new CD but I haven't tried them out yet as part of my live set, and singing to an audience is the only way to see whether or not a song works. Songwriting doesn't come that easily to me and it takes me quite a while to decide whether or not I like a song and if I should perform it. Singing a new song for the first time is a terrifying experience, but if it works then it's the best feeling I know."
In 2012 Bill was approached by The Centre for Robert Burns Studies at the University of Glasgow to record some of the songs of Robert Burns for their 'Editing Robert Burns for the 21st Century'. These recordings are available initially as a digital download from www.gla.ac.uk/editingrobertburnsforthe21stcentury.
Bill Lists his greatest musical influences as Robert Johnson, Blind Blake, Rev. Gary Davis, Mississippi John Hurt, Blind Willie McTell, Bill Broonzy, Hoagy Carmichael, Kate & Anna McGarrigle, Stefan Grossman, Bob Dylan, Chris Smither, Doc Watson, Eric Clapton, Eric Bibb, Ralph McTell and Rory Block.
Bill has also appeared on stage in some of musical theatres most famous roles. These include:
Emile De Becque (South Pacific), Alfred Dolittle (My Fair Lady), Curly (Oklahoma), Tevye (Fiddler on the Roof), Wild Bill Hickock (Calamity Jane), Sergeant of Police (The Pirates of Penzance), Lord Mountararat (Iolanthe), Sir Joseph Porter (HMS Pinafore), Major General Stanley (The Pirates of Penzance), The Lord Chancellor (Iolanthe), Koko (The Mikado) Sir John Tremayne (Me and My Girl), Big Louis (Guys and Dolls), and The Cowardly Lion (The Wizard of Oz).
Publications by Bill Adair:
An Alphabet of Animal Limericks (2014) a collection of twenty-six humourous poems for children.
Learning to Fly (2017) a collection of poetry.
Haiku for Advent (2018) a collection of poetry and short stories for Christmas.
Postcards from India (2019) a book of photographs and tales about Bill's experiences in India.
The Wonderful World of Gilbert Bear (2019) a collection of children's poems.
New Testament Wives (2019)
Twelve Poems for Chrsitmas (2020)
The Empty Manger - Twelve More Poems for Christmas (2021)